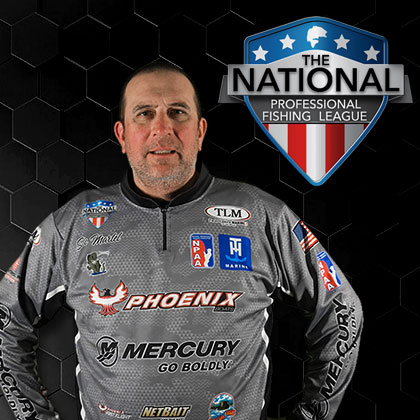 NAME: Stu Martel
HOME: Northbrook, IL
HOME LAKE: Lake Geneva & Fox Chanin of Lakes
SOMETHING FANS MAY NOT KNOW: I have been fishing the state of Wisconsin heavily for over 20 years. Actually, I fish across this entire nation and enjoy every minute of it. What started as fun has turned into a successful endeavor competing on national and local tournament trails. I have passion not just for tournament angling but for all levels of fishing. I developed a love for sharing it with others and not keeping my knowledge to myself. In the tournament world I have earned many first-place finishes as well as other less notable finishes. In 2013 I raised sponsorships to cover the cost for 3 wounded veterans to accompany me on the Bassmasters Southern Open Trail. These Wounded Vets fished alongside me during practice and competed as non-boaters during the tournaments at each of 3 tournaments.
TOURNAMENT EXPERIENCE: 20 yrs.
CAREER HIGHLIGHTS: Lots!
SPONSOR ROSTER: S&D Enterprises, Phoenix, Mercury, Scum Frog, Net Bait
VISIT – LIKE – SHARE – SUBSCRIBE