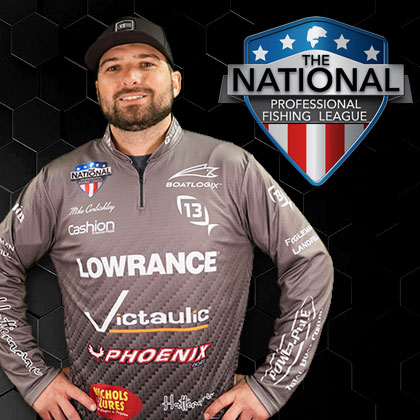 NAME: Mike Corbishley
HOME: Raleigh, NC
HOME LAKE: Falls Lake
SOMETHING FANS MAY NOT KNOW: I have a beautiful fiancé, Rose, the best duck dog named Finley, and live and breath hunting and fishing. Gained most of my experience fishing through the college ranks, graduating from ECU in 2016 (Go Pirates!). When I'm not on the water you can find me at a boat show, or sitting behind my desk working as an Account Manager for Navico Group, selling Lowrance as my day job to OEM's!
TOURNAMENT EXPERIENCE: 10 yrs.
YEARS WITH NPFL: 2nd
TOTAL NPFL WINNINGS: $30,000
CAREER HIGHLIGHTS: 1
National/Regional Highlights:
– 2022 NPFL Rookie (1 top 10, 1 top 20, and 1 top 30 finish)
– 2022 Ray Scott Championship Qualifier (13th Place)
– 2021 ABA Top 150 Solo Series (2nd Place AOY/150)
– 2020 Toyota Series Championship Qualifier
– 2014 FLW BFL Champion
Collegiate Highlights (2012-2016):
– Ranked 8th/800+ College Anglers (BassRankings 2015/2016)
– 3x Top 12 Bassmaster Collegiate Series Finishes
– 2x B.A.S.S. College Series Championship Qualifier
– 2x FLW Collegiate Series Top 10 Finishes
– 1x FLW College Championship Qualifier
– 3x Boat US/Cabelas Collegiate Championship Qualifier
– Cashion College Clash Champion (Falls Lake, 2015)
– Riley's Catch College Series Champion (Lake Wylie, 2015)
Local Highlights (2017-Present):
– 11 Tournament Wins
– 24 Top 5 finishes
– 12 Top 10 finishes
*Piedmont Bass Classics, Fishers of Men, CATT, 5 Alive, and Outhouse Tackle Team Trails
SPONSOR ROSTER: Lowrance, Phoenix Boats, Mercury Marine, Boatlogix, Nichols Lures, Cashion Rods, 13 Fishing, Hatterasman, Fogleman Landfill, Power-Pole, Bajio, Bob's Machine Shop, Rosie Day Productions
VISIT – LIKE – SHARE – SUBSCRIBE