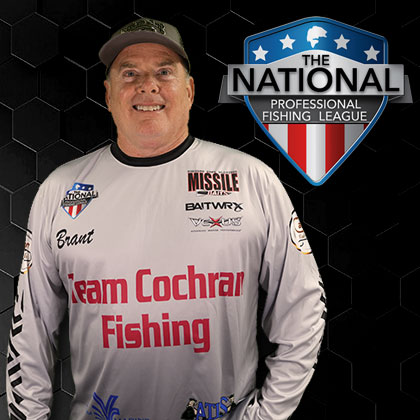 NAME: Brant Cochran
HOME: Waterloo, IL
HOME LAKE: Coffeen Lake
SOMETHING FANS MAY NOT KNOW: Our company responds to hurricanes and other disasters in the world some of them include:
– I responded to the 2001 World Trade Center disaster
– I was called to the Tom Brokaw News Anthrax incident / New York City
– I responded to the Hart Senate Building Anthrax incident/ Washington DC
– I was the Health and Safety Officer for the ship ( Remediate and clean the ship) that sailed from Hong Kong and moored up near Tokyo Japan, 7 people on this ship was deceased due to Covid.
– Dozens of Hurricane Responses including Katrina, Michael and recently Ian in Florida
TOURNAMENT EXPERIENCE: 4 yrs.
YEARS WITH NPFL: 1st
TOTAL WINNINGS WITH NPFL: $0
CAREER HIGHLIGHTS: I finished 2nd, 3rd in local tournaments in High School in Central IL. I finished 5th out of boats on a tournament at Lake Istokpoga in 2011.
My son & I finished 3rd in an Anglers Choice tourney at Golconda Il in 2019. My dad taught me how to bass fish since I was 5 yrs old, now I'm teaching my son, this is what it's about!
SPONSOR ROSTER: BEK Group, BOJANGLE Baits, VC Marine
VISIT – LIKE – SHARE – SUBSCRIBE