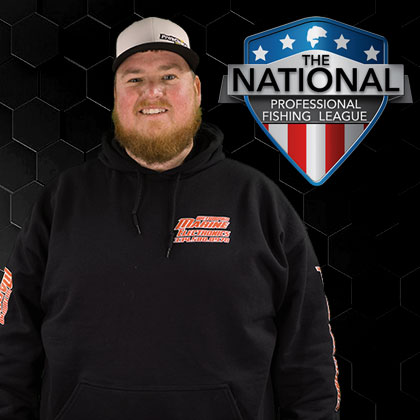 NAME: Adam Savage
HOME: Hodgenville, KY
HOME LAKE: Nolin Lake
SOMETHING FANS MAY NOT KNOW:
I live in a small town called Hodgenville Kentucky, where our sixteenth President Abraham Lincoln was born. I come from a strong military family background with both my parents having served our great country. I'm a dad to a beautiful 9 year old girl who also loves the outdoors an fishing. I grew up like most fishing with my dad an later cutting my teeth on Tuesday an Friday night tournaments. I played baseball growing up and I feel like that's where the fire an desire of tournament fishing comes into play for me. I'm currently fishing with The National Professional Fishing League along with MLF and still love jumping in those weekend derby's! God willing I will be able to continue chasing this dream of fishing and competing full time..
TOURNAMENT EXPERIENCE: 19 yrs.
YEARS WITH NPFL: 2nd
TOTAL NPFL WINNINGS: $10,000
CAREER HIGHLIGHTS: 2022-12th Place Finish Stop #3 NPFL-Watts Bar Lake
SPONSOR ROSTER: ProChoice Marine, Wetumpka Marine Electronics, Precision Sonar, BoatEFX, SeaClearPower, PowerPole, JBro's Lures, PH Custom Lures, Seaguar, Dobyns Rods
VISIT – LIKE – SHARE – SUBSCRIBE