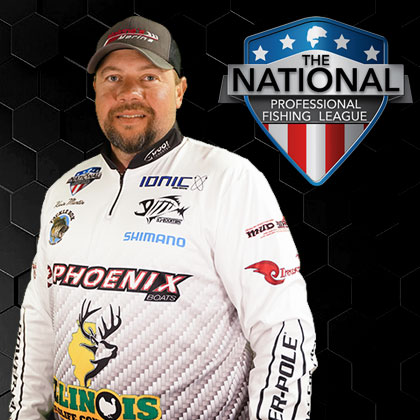 NAME: Kevin Martin
HOME: Crown City, OH
HOME LAKE: Ohio River
SOMETHING FANS MAY NOT KNOW: I'm 45 yrs old married to my beautiful wife, and have 3 beautiful children. My family is my backbone. If it wasn't for their support I wouldn't be able to fish professionally. We own our own construction business Ohio River Barns and Cabins. We have been in business for 10 years now. I'm also an avid outdoorsman, I love to hunt and fish. I've been fishing and hunting since I was old enough to remember.
TOURNAMENT EXPERIENCE: I've been competing in tournaments for 20+ years. I've been competing at a professional level now for 5 years.
YEARS WITH THE NPFL: 2nd
TOTAL NPFL WINNINGS: $35,000
CAREER HIGHLIGHTS: Finished 10th at Lake Cumberland
Finished 3rd at Saginaw Bay
Finished 11th at Kissimmee Chain
Finished 11th in points
SPONSOR ROSTER: illinoiswildlifeconnections, malonesmarine, lowrance, powerpole, phoenixboats, mercurymarine, tacklebox, drewcraft, ioniclithiumbatteries, mudpuppycustomlures, ohioriverbarns & cabins, wootungsten, gloomis, shimano, mustangsurvival
VISIT – LIKE – SHARE – SUBSCRIBE